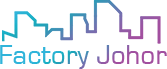 Contact Us:
No. 2, Jalan Eko Perniagaan 1/9,
Taman Eko Perniagaan, 81100 Johor Bahru, Johor, Malaysia.

Whatsapp:

+6012-766 7738 | +6013-713 6222 (Ms Lesley Siang)

E-Mail:

info@factory-johor.com
Factory for Sale/ Rent in Johor Bahru (JB)
新山工厂出售出租
Factory for Sale & Rent in Johor Bahru (JB). Be it you are looking for industrial space to expand your business or you are planning to start your new venture, we are a team of qualified real estate agents who can assist you in finding the perfect address for your business. Iskandar Region, Johor Bahru has been gaining attention worldwide due to its strategic location to Singapore and coupled with complete infrastructure for businesses to thrive. Our factory specialist will be able to work in line with your budget, location preference, and industrial requirement.
Contact Us for More Detail
Webteq Solution | The Website Company Since 2007
Webteq Solution Sdn. Bhd. was founded in the year 2007. We currently have a team of 30 people who are expertised in website design, web development, SEO (Search Engine Optimization), and web-based application. Our headquarters are in Taman Austin Perdana, Johor Bahru (JB). In addition, in year 2020, Webteq has expanded his web design office at Sunway Nexis (Kuala Lumpur KL).
Webteq = Website & Technology.
Webteq Solution was the original name, however it was changed to Webteq Solution Sdn. Bhd. The name "Webteq" comes from the nature of the firm, which is "Website" and "Technology" related. It mostly assists firms with the effective websites, SEO (Search Engine Optimization), and customized web applications.
The Strengths of Webteq – 1,500 websites, 75% Google High Ranking.
Webteq has developed and completed over 1,500 websites and web-based applications since its inception in 2007. Furthermore, we have assisted over 75% of businesses in maintaining high ranking in Google search result. We assume that having a website with a high Google ranking will assist in attracting future sales leads. To learn more about Effective Website, please Contact us.
The Mission of Webteq
To help businesses through effective websites, by helping to enhance corporate image and increase sales leads".
To know more about Website + Google Ranking
Do you plan to grow your company? Do you want to see if Website and Google search result will benefit your company? Do you want to learn more about how to boost your website's Google ranking? Contact Webteq, a Johor Bahru-based website design firm (JB).

We create powerful websites at Webteq.
Contact Us for Web Design Johor Bahru (JB) Kuala Lumpur (JB)
Web Design Johor Bahru (JB)

Webteq Solution Sdn Bhd
No. 34-01 & 34-02, Jalan Austin Perdana 2/23, Taman Austin Perdana,
81100 Johor Bahru, Johor.

E-Mail:

info@webteq.com.my

Tel:

+607-352 4437

Phone:

+6016-770 4437 (Mr Tey)

Fax:

+607-352 5437

Web Design Kuala Lumpur (KL)

Webteq Solution (KL) Sdn Bhd
Unit D-2F-12 Sunway Nexis, No. 1 Jalan PJU 5/1,
Kota Damansara, 47810 Petaling Jaya, Selangor.

E-Mail:

info@webteq.com.my

Tel:

+603-6730 4321

Phone:

+6018-311 4437 (Jason)
Webteq | Web Design Johor Bahru (JB) Kuala Lumpur (KL)